New Users Can Benefit from a Beginner's Guide to Yoast SEO
First, my background is in graphic design, user interface design, user experience design, logo design, and so on. You get it—I'm a designer at heart, so I know I could benefit from a beginner's guide to Yoast like many others could. Second, I'm a business owner who knows the value of proper SEO, or search engine optimization. So I know it's important to step away from my typical daily routine to learn some new skills. These abilities will undoubtedly help my company. We have experts on our team who work on SEO, but I don't want to rely solely on them when I can learn a new skill and provide support.
Before the Beginner's Guide to Yoast SEO… What is It?
Before I go on, it's important to understand what Yoast SEO is. Yoast is a plugin for the WordPress CMS, or content management system. So you have to understand that a WordPress-based website is a requirement before using this SEO plugin.
The purpose of Yoast—at least to a beginner like me—is to help website copy writers produce good content. The main two tabs in the plugin are SEO and Readability. However, there is a third tab called Social which allows users to add images and text for social media websites.
The Yoast Plugin "SEO" Tab
There are six areas under the SEO tab: focus keyphrase, Google preview, SEO analysis, add related keyphrase, cornerstone content, and advanced.
Focus Keyphrase: This is a word or phrase which is the search term for the page. It's what site owners want their page to rank for the highest.
Google Preview: This part of the panel helps users understand what will show up in Google results. It presents them visually for both mobile and desktop results.
SEO Analysis: The analysis section seems to be the meat and potatoes of the plugin. It provides SEO analysis results for many content items. These include: outbound links, internal links, keyphrase length, keyphrase density, keyphrase in meta descripton, meta description length, previously used keyphrase, keyphrase in subheading, image alt attributes, text length, keyphrase in title, SEO title width, ekyphrase ins lgu, and keyphrase in introduction. Wow! That was a lot of information try to understand as a beginner.
Add Related Keyphrase: If a user wants to add a related keyphrase, upgrading to Yoast SEO Premium is an option in this section.
Cornerstone Content: This area allows users to define the page or blog post as one of the best or most important on the entire website.
Advanced: This section contains four items which include allowing search engines to show the page/post in results, allow search engines to to follow links, add meta robots, and enter a canonical URL.

The Yoast Plugin "Readability" Tab
This section provides users with the results of Yoast's readability analysis. The results include Flesch Reading ease, passive voice, consecutive sentences, subheading distribution, paragraph length, sentence length, and transition words.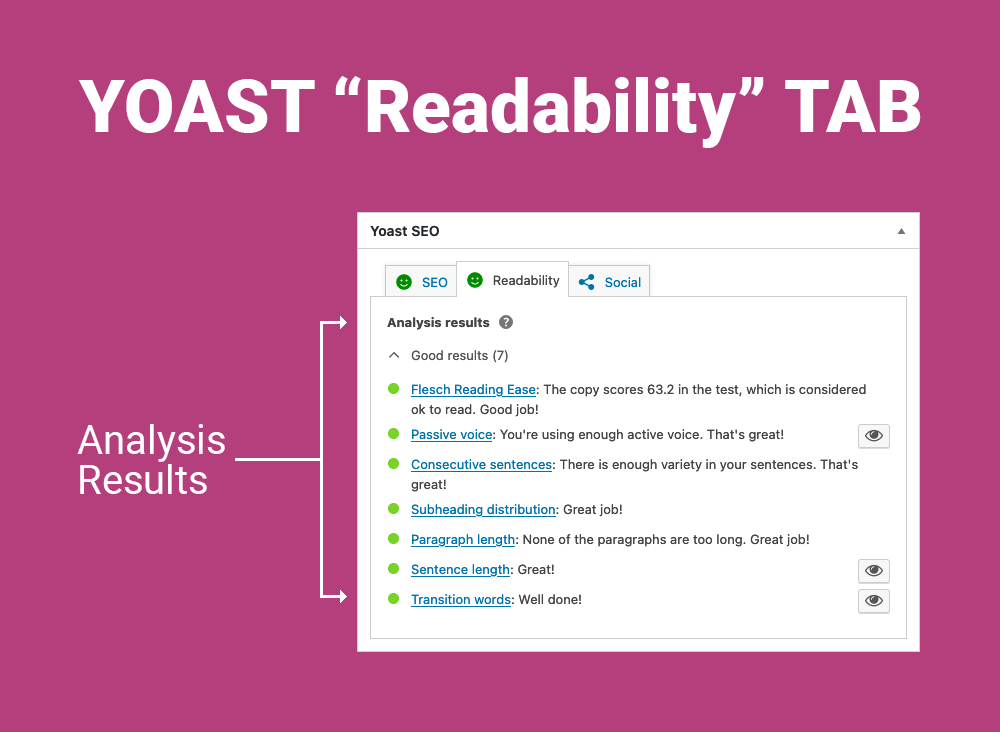 The Yoast Plugin "Social" Tab
This tab provides users with the ability to upload content to Facebook and Twitter, but be aware that previewing it will require upgrading to Yoast SEO Premium. Currently the cost is $89.00 for one website, which includes a year of free updates and support.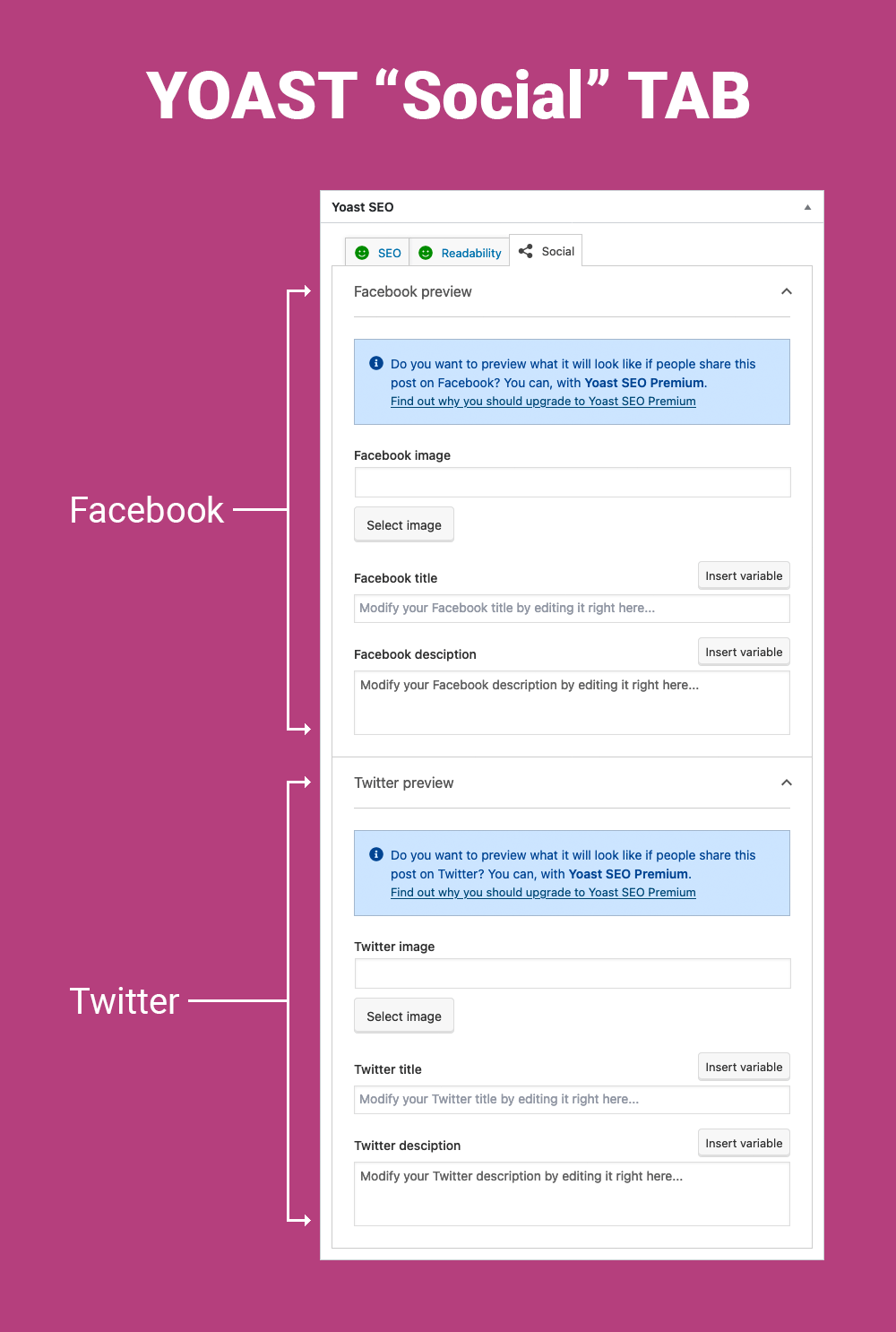 My Analysis as a Beginner User
Yoast SEO plugin is extremely helpful for organizing the types of content needed to help a page rank well in search engines, especially Google. It is also helpful for understanding what's considered reader-friendly. So the result is a group of content, scores, and outcomes to help copy writers meet a minimum threshold of SEO and reader-friendliness for a given page.
The downside is that sometimes I found myself writing in unnatural ways. From time to time I would have to cut sentences in places they shouldn't be cut. That's because Yoast doesn't like too many sentences with twenty or more words. I understand the idea is to simplify text, but sometimes an article about application development, for example, requires complex sentences.
Also, the need for items like outbound links (links to other websites) and internal links (links to other pages on the user's site) doesn't make sense. Those don't particularly add anything of value to the reader. So perhaps the value is in a search engine only. At least that's my amateur understanding of it. The experts on our team understand the nuances and reasoning, but I didn't want to consult them for this post. I preferred to write this from a novice standpoint to help others like me.
Finally, the overall outcome for me during content writing was a very positive experience. I would be a much less effective copy writer without Yoast's WordPress SEO plugin, so I consider it a valuable tool in preparing content for the web.
Conclusion
Be sure to contact us with any questions, especially if you need assistance with SEO.
To learn more about the Yoast SEO WordPress plugin, go to www.yoast.com.